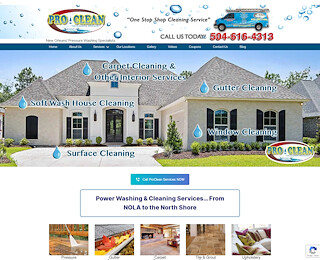 Our Pressure washing Southshore team will thoroughly cleans your home, eradicating mildew and mold to leave your home beautiful and healthy. ProClean Services is your one-stop cleaning service in the New Orleans area.
What are the dangers of mold and mildew in New Orleans?
Louisiana is hot and humid, the perfect conditions for the growth of mildew, kudzu, and mold. These invaders are dangerous to your home and your health.
Breathing in mold spores poses a significant health risk, which compounds if your home is not cleaned. Decks and beams can rot. In reality, the classic look of New Orleans is a serious hazard.
How can I remove mold and mildew from my home?
Power washing in Southshore uses water sprayed at a high PSI to obliterate foreign material from exteriors, patios, decks, and driveways. Pro Clean can pressure wash:
Bricks
Siding
Wood
Stucco
Fences
Decks
Driveways
Concrete
Parking lots
Porches
Get rid of damaging greenery and keep your family, friends, co-workers, and employees healthy when they visit or work in your building. Our high-powered heated pressure washer uses eco-friendly cleaners to produce the lowest possible impact.
Benefits of power washing
Power washing is cost-effective and thorough. You do not need scaffolding to reach the upper parts of your roof.
This type of wash is also safer. With less movement across ladders and along wet surfaces, you are less prone to slipping and hurting yourself.
Is there a better way than pressure washing to clean my home exterior?
The best powerwashing company on the Southshore, avoids damaging your home. We strive to provide the deepest and safest clean, including with a soft wash.
Soft washing uses a foaming mixture to bind to dirt and grime and a lower pressure wash to remove the compound. This avoids potentially chipping away at your exterior.
Commercial building cleaning
Pressure washing is perfect for office buildings. These large and often steel structures are resilient and less prone to being damaged by a high-pressure wash.
Combine pressure washing with window cleaning to obtain the healthiest and most beautiful environment. You cannot post a dirty office on you company homepage, especially in New Orleans and Southshore where a failure to clean leaves your structure looking dilapidated.
How do I clean my deck?
Decks respond particularly well to pressure washing. Wood and brick do not wear when washed.
Wooden decks often require high-pressure washing. Mold and mildew thoroughly attach to the deck or patio in a way that is extremely difficult to remove.
What is the cost of power washing my home?
Power washing costs up to 22 cents per square foot with a typical job ranging from $220 to $380. The larger your home or space, the higher the cost will be.
ProClean provides pricing on a per-job basis but offers free quotes for powerwashing. Do not let mold and mildew create tainted and unhealthy environments. Get in touch with our team today to find out how we can help promote home, deck, patio, office, and driveway health with pressure washing in Southshore.