Bayou Bend Collection and Gardens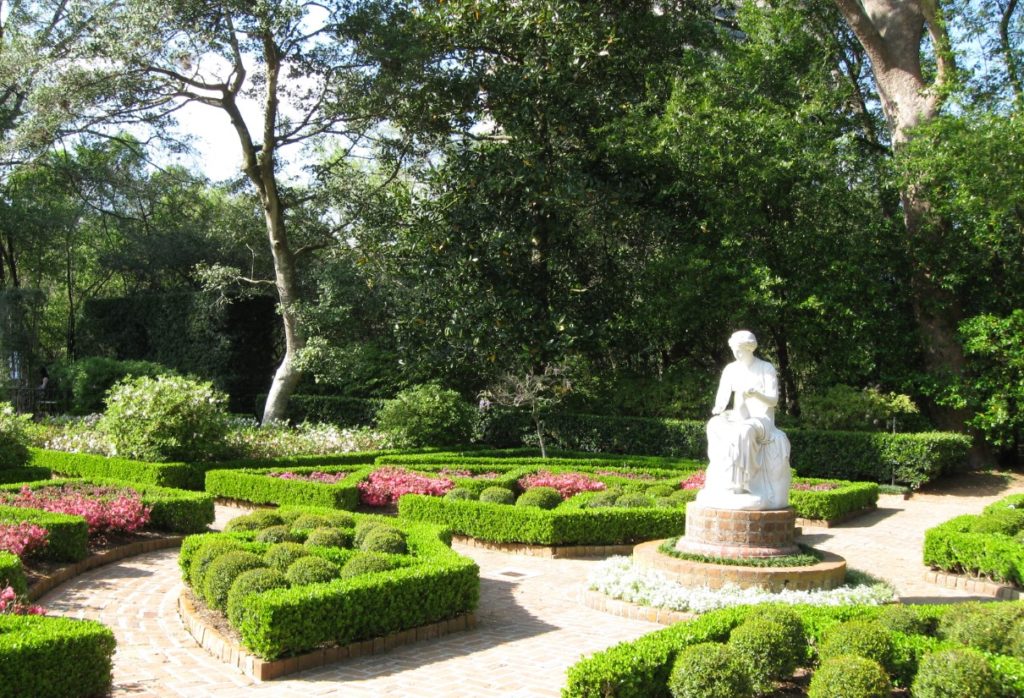 Bayou Bend Collection and Gardens, located in the River Oaks community in Houston, Texas, United States, is a 14-acre (57,000 m2) center of the Museum of Fine Arts, Houston (MFAH) that houses a collection of ornamental art, paintings and furnishings. Bayou Bend is the former house of Houston philanthropist Ima Hogg. Bayou Bend was marked with a Texas Historical Commission marker in 1973 and was noted in the National Register of Historic Places in 1979. Houston Texas Information.
Location
1 Westcott St., Houston, Texas
Coordinates

29°45′27″N

 

95°25′14″W

Coordinates: 

29°45′27″N

 

95°25′14″W

Area
15 acres (6.1 ha)
Built
1927
Architect
John F. Staub
Architectural style
Neoclassical Revival, English Regency
NRHP reference #
79002954
Added to NRHP
December 6, 1979
Estate and gardens
The mansion, developed by architect John F. Staub, was built between 1927 and 1928 for Ima Hogg and her brothers, William C. and Michael Hogg. Ima Hogg offered the house its name, over the objection of her brother Will, who said the name was "too muddy and 'muskeetery' and malarial". Ima reacted that "not everyone can have a bayou".
Miss Hogg produced a series of gardens that were planned as outside spaces for living and entertaining. In 1957, Miss Hogg contributed her home and her collection to the Museum of Fine Arts, Houston. Bayou Bend opened to the public in 1966.
Staub's plan for Bayou Bend combined eighteenth-century Georgian architecture with elements that are definitely Southern and of Spanish Creole architecture. Other elements of Bayou Bend's design are borrowed from Southern plantation houses. The interiors borrow more greatly from the architectural traditions of the North. Staub incorporated floorboards and paneling from 2 eighteenth-century Massachusetts homes in Miss Hogg's bed room and sitting room. In February 1999, the city of Houston named Bayou Bend a main city landmark.
The heavily wooded 14 acres (5.7 ha) along Buffalo Bayou include eight official gardens. 3 of the gardens are called for a statue of a goddess or muse displayed in the garden, Clio, Diana and Euturpe. Bart Brechter, the Curator of Gardens at the museum, approximated that it would take 5 months to clear the particles and might take years to bring the gardens to their previous state.
Collection
The collection at Bayou Bend presently consists of approximately 4,700 items that reflect historic and stylistic durations from 1620 to 1870 installed in some 28 duration space settings that display American ornamental arts from 1620 through 1870. Miss Hogg began assembling this important collection of American ornamental arts in 1920. To offer appropriate settings for these extraordinary antiques, Staub developed easy however majestic interiors in the design of colonial American spaces.
In 1920, while sitting for a picture by artist Wayman Adams, Miss Hogg appreciated a simple armchair belonging to the artist that was made in colonial America and later got a similar Queen Anne chair for herself. Nearly half a century later, Miss Hogg obtained the very same chair that she had first seen in Adams' studio. "From the time I acquired my very first Queen Anne armchair in 1920, I had an unaccountable compulsion to make an American collection for some Texas museum." The collection likewise includes noteworthy items from outdoors America, including English ceramics used in Colonial America.