Glenwood Cemetery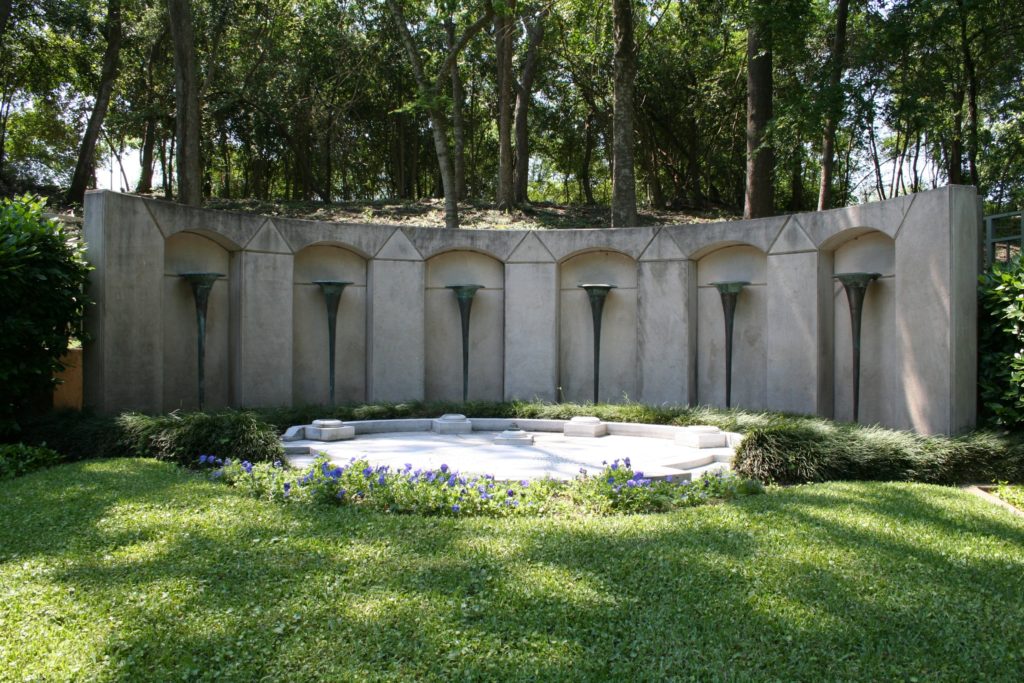 Glenwood Cemetery is located in Houston, Texas, United States. The design was based on concepts for garden cemeteries, breaking the pattern of the common arena layouts of most Houston cemeteries. As of 2018, Glenwood includes the annexed property of the nearby Washington Cemetery, creating a total area of 84 acres with 18 acres still undeveloped.
Notable burials at Glenwood include previous residents of the Republic of Texas, some who were re-interred from condemned cemeteries from downtown Houston. Charlotte Allen and William Robinson Baker were early arrivals to Houston, and likewise long time residents. Baker was among numerous interments of former mayors of Houston. The last president of the Republic of Texas, Anson Jones, has a family plot. Previous governors of Texas and a previous governor of Mississippi lie at rest at the cemetery, as do some high-ranking federal officials. Scions of the oil business consist of two co-founders of Sharp-Hughes Tools, as well as creators and early financiers of Texaco and Humble Oil. The founding president of Rice University, the school's chief designer, and the institute's very first trustee are discovered at Glenwood. Houston Texas Information.
Details
Established
1871
Location

Houston, Texas

Country
United States
Coordinates

29°45′55″N

 

95°23′9″W

Coordinates: 

29°45′55″N

 

95°23′9″W

Type
Private
Size
84 acres (34 ha)
Website

Official website

Find a Grave
Glenwood Cemetery
History
Glenwood Cemetery developed on 2 systems of land on the north side of Buffalo Bayou, and west of Downtown Houston. Glenwood Cemetery purchased the property and some adjacent land in the Hollingsworth Survey in 1870. Glenwood acquired its state charter as the Houston Cemetery Company, starting as for-profit institution, the first state charter for a cemetery.
By 1874, Glenwood was a recreational location. A mule-drawn street railway operated on Washington Road, conveying individuals to Glenwood for weekend and vacation visits. Upgrades and expansions to the street trains were both a response to require for travel to the cemetery and a cause of it. Glenwood stayed popular for about twenty years. A group led by W. D. Cleveland slammed the conditions of lots and roads in 1896 and requested for a receivership to handle Glenwood. 2 court choices led to a transfer of management to William Christian. Glenwood went through reorganization in 1904, and more recently was rearranged as the non-profit Glenwood Cemetery, Incorporated in 1969. A different organization, the Glenwood Cemetery Historic Preservation Foundation, started supervising historic conservation of the property in 1999. The same year Glenwood acquired the surrounding Washington Cemetery, expanding its land area by 118 acres.
Keith Rosen, a Houston area history teacher priced estimate in the San Antonio Express-News, said that the cemetery is the "River Oaks of the dead."  In 2003 the Houston Press ranked it as the "Best Cemetery".
General attributes
Glenwood Cemetery is located on the northern bank of Buffalo Bayou, and bounded by Washington Avenue to the north. Parts of the property manage views of the downtown Houston horizon, of Memorial Drive, and of Allen Parkway. The property covers 84 acres, with 18 acres still undeveloped as of 2018.
According to architectural historian, Stephen Fox, a lot of Houston's earlier cemeteries featured a stadium plan of serious sites, following a pattern of metropolitan cemeteries. Glenwood did not use a gridiron plan, and even much of Glenwood's successors kept the old manner of urban cemetery style.