Kingwood High School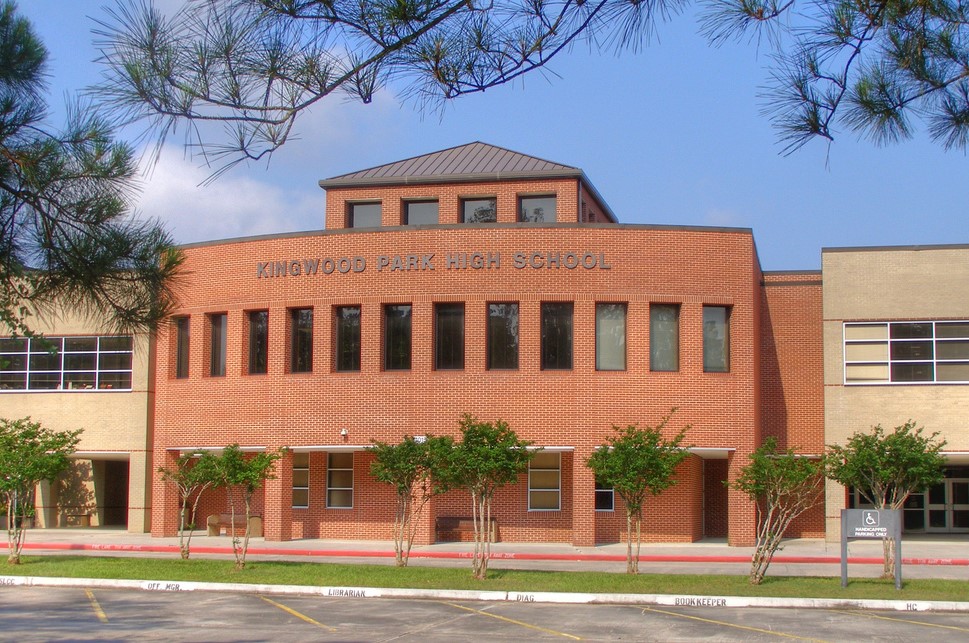 Kingwood High School is a Humble Independent School District secondary school located in the Kingwood neighborhood of Houston, Texas, United States and serves Portions of Kingwood and Atascocita. Ted Landry had actually been principal since May 29, 2011 up until June 2018 when he revealed his departure from Humble ISD to change Greg Colschen as primary at The Woodlands High School in Conroe Independent School District. Dr. Michael Nasra will be changing him as structure principal.
Its feeder schools are Creekwood Middle School and Riverwood Middle School. Kingwood Texas Information.
Information
Funding type
Public
Motto
"Learning for all…whatever it takes."
Established
1979
School district
Humble Independent School District
Principal
Michael Nasra
Faculty
148.87 FTE (2017-18)
Grades
9–12
Enrollment
2,653 (2017-18)
Student to teacher ratio
17.82 (2017-18)
Campus type
City: Large
Color(s)
               Navy blue, Columbia blue, and white
Nickname
Mustangs
Newspaper
The Kingwood Courier
Yearbook
Hoofprints
Website
www.humbleisd.net/khs/site/default.asp
History
Kingwood High School opened in the fall of 1979,  under Principal Andy Wells. A 9th grade school at 4015 Woodland Hills Drive opened in 1993. It was in operation until spring 2007. Kingwood was annexed into the City of Houston in 1996. Prior to 1996 both schools were in the Kingwood census-designated location in an unincorporated area in Harris County.
Prior to fall 2007, as 9th graders went to the separate campus, integrated registration was over 4,000, making Kingwood High School the 7th largest Texas public high school by registration at the time. The previous 9th grade campus was renovated and is now an independent high school, called Kingwood Park High School.
Simply before the start of the 2017-2018 school year, Kingwood High School was badly harmed by flooding caused by Hurricane Harvey. This implied that the students that year took their classes at Summer Creek High School.
The school was arranged to reopen in March 2018 after having repairs worth upwards of $70 million.
Academics
For the 2018-2019 school year, the school received an A grade from the Texas Education Agency, with a general rating of 93 out of 100. The school got a B grade in two domains, School Progress (score of 83) and Closing the Gaps (rating of 89), and an A grade in Student Achievement (score of 95). The school got three of the 7 possible difference classifications for Academic Achievement in Science, Academic Achievement in English Language Arts/Reading, and Academic Achievement in Social Studies.